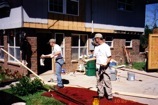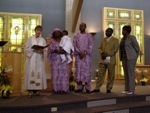 FPC Garland is  a well-established congregation of 300 members. There is a feeling of "family" that makes even a newcomer feel part of our 121 year history. We love our children and youth and have a large and active group of young people who participate fully in the life of our congregation.
We also enjoy the vibrancy of members who have worshipped with us for over 40 years and still enjoy learning something new. We believe "worship" is an active verb and doesn't end when we leave the Sanctuary on Sunday.
In 1994, our church celebrated its move from the old location (the red brick building) across the street to this sanctuary. If you stroll the grounds, take time to read the historical marker on the East or 9th Street side of the building.
Prior to the 10:50 AM service, Acolytes call members to worship by ringing the bell located just outside the front doors. Interior architecture and fixtures are circular to remind us of the circle of life and our baptismal covenant. You may notice the beautiful stained glass windows in the chancel area, these were moved over from the old building and are part of our cherished heritage. The windows remind us of the saints who have gone before us and remain with us in our life journey with Christ. Walking towards the Education Building another shadow box remembers the family names who dedicated the windows to our church. FIRST PRESBYTERIAN CHURCH 930 West Avenue B Garland, TX 75040 (972)272-2595