Staff
Pastor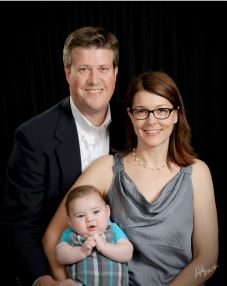 Reverend Paul Burns


Paul is the son of a Presbyterian pastor. He graduated from the University of Oklahoma with a Bachelor of Musical Arts and pursued a career as an investment consultant in Dallas and then New York City. Feeling called to ministry, he returned to Texas to attend Austin Presbyterian Theological Seminary.
Paul and his family come to us from Priest Lake Presbyterian Church in Nashville, Tennessee. He served seven years at Priest Lake and has helped that church grow not only in faith, but in mission outreach, membership, racial diversity, and stewardship funds during his tenure.
Beyond service to his local church, Paul has authored two books with one more on the way. He is a certified Christian coach and is currently working to complete his Doctorate of Ministry.
Paul and his wife, Jennifer, and their 2-year-old son, Nelson are excited to be back in Texas. Paul's first day in the office was January 5 with his first Sunday in the pulpit will be January 11. The Pastor Nominating Committee will now serve as the transition team, and we ask for your help as we begin the process of preparing to welcome the Burns family into our fold. Pray for them as they go through this time of transition, and pray for Rev. Ivie and his family as well. Praise be to God for these times of change and renewal!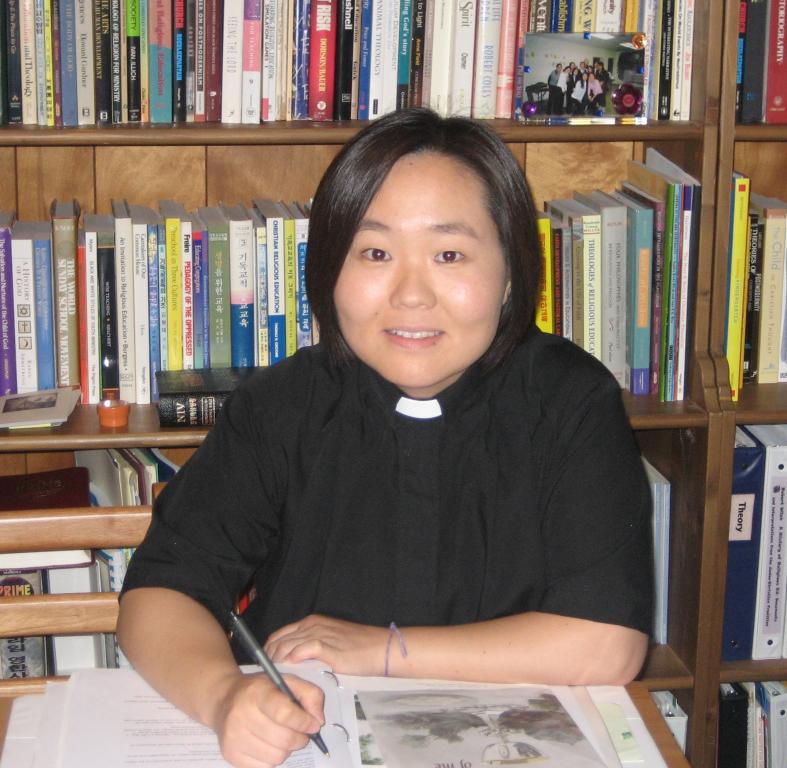 Reverend Sandra Sonhyang Kim
Director of Youth and Children's Ministries
Begins her ministry with us on February 2, 2014

Sandra was born and raised in a Christian home in South Korea, and immigrated to the States with a very limited English language skill. Therefore, it was a big shock when the pastor asked her to teach preschoolers as a Sunday school teacher. She laughed and told him jokingly, "If the Lord is willing." When he asked her to come and see them first, she went and watched a preschooler's Sunday school class.
Twelve kids were sitting on adult-size chairs with their feet dangling, banging their heads against the table, shouting, "shut up, shut up, shut up." the very first word they had heard from their teacher that morning. She left the building with tears in her eyes sensing God's direction in her life.
Sandra felt the urgency of God's calling to be a shepherd and completed her Master of Arts in Christian Education and Master of Divinity at Union Theological Seminary and Presbyterian School of Christian Education now known as Union Presbyterian Seminary in Richmond Virginia. While she was working on a Ph.D. degree in Christian education at the same seminary she received her first full-time pastorate call. Since then she has been juggling various ministry encounters as an education pastor, children's pastor, youth pastor, and solo pastor, and mission opportunities in refugee resettlement sites, adult homes, nursing homes, orphanages, many rural schools and churches in China, slums of Honduras, inner-city Toronto, various Native American villages, homeless shelters, soup kitchens, and continuing education in Psychology at University of Massachusetts, Social Work at New York University.
Sandra is married to Stan who is an ordained PCUSA teaching elder. Stan works at the Texas Health Presbyterian Hospital Dallas as a director of Pastoral Care department. They have a delightful teenage daughter. The two generation family shares their home with Sandra's elderly mother who came to escape the northwest raining/cold weather in 2013, and is currently looking for a small, cute, and well trained four- legged 5th family member. Sandra enjoys coffee, books, and, oddly, packing for relocation while listening to the Beatles (the Kims have moved 7 times during the last decade). However what Sandra enjoys the most in her life journey is the anticipation of experiencing God's presence in small everyday moments that remind her to, "Be still, and know that I am God!" (Psalms 46:10a)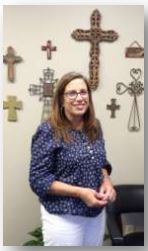 Nancy Breda
Administrative Assistant

The session is pleased to introduce to you Nancy Breda, our new Administrative Assistant. Nancy is a life-long Presbyterian, an ordained ruling elder, mother of two, and grandmother to one. Her daughter, Jen, and husband, Adam, live in the Lochwood area of Dallas and are parents to one-year-old Owen. Nancy, Jen, and Adam are members of NorthPark Presbyterian in Dallas. Her son, Michael, and his wife, Sara, have been married less than a year and live in San Antonio, where Nancy grew up and has many long-time friends. She was a member of Grace Presbyterian in San Antonio for nearly 50 years. She's lived in this area for a little over a year and a half and moved here to be close by her grandchild. Nancy feels blessed to have the opportunity to be with Owen so often. Besides being with family, she likes to read, go to movies, volunteer, cook, and garden, though she doesn't get to play in the dirt much anymore as an apartment-dweller. One last thing she'd like to add: Go Spurs Go! Nancy is pleased to be joining the staff of First Presbyterian Garland and is looking forward to meeting you!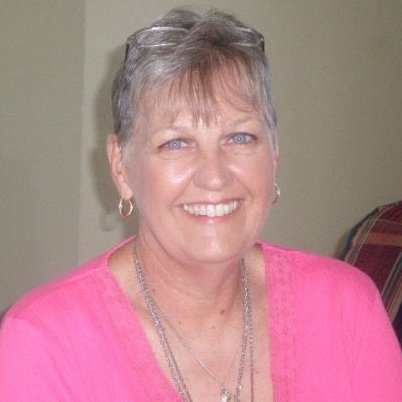 Dana Dunlap
Receiving Treasurer

Dana Dunlap, a member of FPC Garland for 55 years, has recently joined our staff as the Receiving Treasurer. She retired from the City of Garland after 25 years but soon went back to work. In addition to her job here at FPC, Dana is also church secretary for Southminster Presbyterian Church. With two part-time jobs, an awesome family and many hobbies, she keeps very busy.
Dana is very proud of her daughter Jamye, who was recently ordained into ministry by the PC(USA). Jamye is the mother of Dana's grandchildren Makayla and Mychele; and this year she married Doug Cook, adding his children Krista and Mitchell to Dana's family.
Dana most appreciates the wonderful people of FPC. The members (past and present) of this church have supported her and her family, loved them and cared for them through the good times and the bad.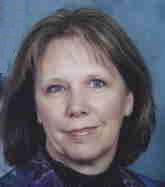 Linda Jones
Disbursing Treasurer

Linda has also been a member of the staff at FPC for over 20 years. She is deligent in seeing that all the bills are paid in a timely manner, administers payroll, and graciously answers the many financial questions that come her way. Linda and her husband Spencer manage a full time accounting business so they stay very busy. They have two daughters and two gorgeous grandchildren.

See Music Page for Music Staff Information